There is Europe, Asia, Africa, America, and then - Romney Marsh.
Romney Marsh is located on the southern-most tip of Kent, UK. With the diversity of its habitats, rich history and extensive coastline, it is referred to by locals as 'the fifth continent'.
Boardwalks, Promenades sand dunes and a view over towards France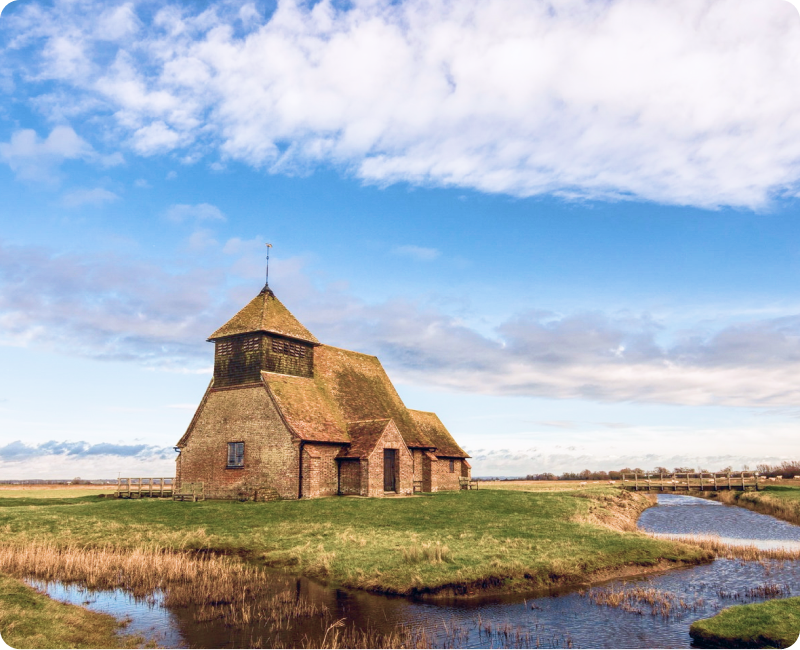 Ancient Churches and Villages
A landscape steeped in architectural history
A rich haven for wildlife teaming with Stork, Heron, Gulls, and Owls
Royal Military Canal
Pedalling up the banks of the picturesque Royal Military canal is the perfect way to unwind. The mostly off-road path is perfect for families and couples, with many restaurant, pubs and places to stop for a picnic.
The Royal Military Canal was initially built as a defence against invasion during the Napoleonic Wars with France (1793 - 1815). Work started on 30 October 1804 and digging took just 22 months.
As well as standing as an important military monument, the 28-mile canal linking Kent and East Sussex provides an excellent habitat for wildlife and today plays an essential role in maintaining the water levels across the marshes.
To explore for yourself, book your bikes today!
Romney Hythe & Dymchurch Railway
In Romney Marsh, we have the world's smallest public railway!
The railway was the brainchild of millionaire racing drivers, Captain J.E.P. Howey and Count Louis Zborowski. Today the trains runs between Hythe and Dungeness, stopping at five stations along the way and providing essential transport links for schoolchildren.
They even accommodate bikes, so you can plan your day to include a ride on a train!
To help plan your trip, book your bikes today!
Dungeness Lighthouse
Opened with great ceremony by His Royal Majesty the Prince of Wales in 1904 after a 3 year build, it survived two world wars before decommission in 1960.
For 56 years it provided a welcome landlight to vessels negotiating the perils of the English Channel.
Today, you can climb it and admire panoramic views of the surrounding countryside and coastline.
Want to start your ride here? Book your bikes today!